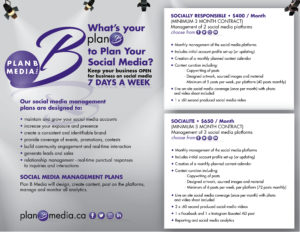 Keep your business open for business 7 days a week on social media.
Generate exposure and grow your business with social media.
The digital revolution is here to stay. The internet (websites) and social media are some of the most critical elements to marketing success. Whether you are an individual or a business, you can't ignore the power of social media. Social Media marketing is critical for all businesses, providing a direct opportunity to engage with existing and new customers.
Leverage the power of Social Media. We offer complete coverage managing your social media account profiles. Leave the socializing to us! Content creation, scheduling, posting, contests, audience engagement and more. We'll grow your audience, keep them engaged, and manage your entire social presence.
We design, create content, post on the platforms, manage and monitor all analytics.
Platforms – Instagram, Facebook, Twitter, YouTube and LinkedIn.
Are you Socially Responsible or a Socialite? Let's find out – click here to view our Social Media marketing management plans.